Burn Injuries
Real Legal Help After a Serious Burn Injury
You know all too well now that burn injuries are the most painful and life-changing of all injuries.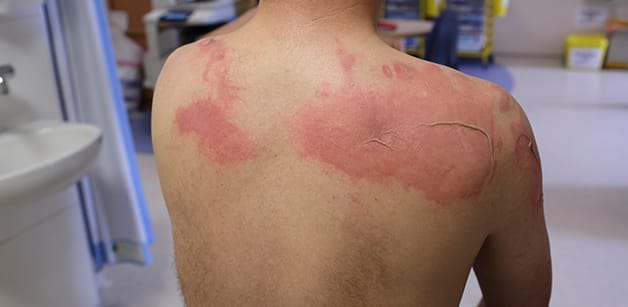 When serious injuries like burns are involved, you need a lawyer who can accurately identify responsible parties and obtain full, fair and complete compensation for the victim. In central New Jersey, personal injury attorney James M. Curran brings 30 years of trial and negotiation experience to every case. By combining aggressive litigation strategies with compassion for injury victims, James M. Curran has the experience to maximize the value of your burn case.
We encourage you to give us a call today to arrange a free initial consultation. Call (732) 241-0994 to reach us at our office in Milltown.
The Keys to Receiving Full Compensation for Burn-Related Injuries
Burns can result from many types of incidents, including car accidents that result in fires, explosions at construction sites and fire accidents where negligence played a role.
James M. Curran Attorney at Law has handled many serious burn cases and knows the devastation that burns can cause to the victim and the victim's family.
Many burn injuries (especially second- and third-degree burns) can require multiple skin grafts, other corrective surgeries and extensive rehabilitation. These treatments can leave people unable to work for months at a time, and often leave them in lasting pain with permanent scarring.
Preparing Your Case
Most serious burn cases in North and Central Jersey are brought to the St. Barnabas Burn Center. Over the course of his career, James M. Curran has worked with the St. Barnabas Burn Center doctors to gain an understanding of what is needed to prepare the burn case for presentation to the jury.
James M. Curran Attorney at Law knows that expert evaluations are essential to maximizing the recovery in your case. Complex engineering analysis is often needed and utilized along with top medical, vocational and financial experts who will assist in determining the lifetime costs of severe injuries.
My Firm is Here to Help. Contact Me Today
There is no reason to wonder if you can pursue compensation for your burn injuries. Middlesex County burn injury attorney James M. Curran offers a free, no-obligation case evaluation. Schedule yours by sending an email or calling (732) 241-0994.
Client Reviews
35+ Years of Experience
Fill out the contact form or call us at (732) 241-0994 to schedule your free consultation.